/// /// ///
Success! Sort of last minute, I decided that our family needed to attempt a photo for Christmas cards. We set up the tripod in the backyard, pulled down the garland from our mantle, threw down the fabric I bought for a sewing project, and we did it! Here are a couple of our outtakes:

In addition to the children (and Chris!) being good sports and cooperating, I would like to thank my hair for being well behaved, too. I thought it would be a good time to try the Pantene products to get picture perfect ringlets. I'm happy to report that using the products produced much better results compared to my first attempt with the curling wand! Photo worthy hair, for sure!
First I watched this video tutorial specific for long hair and curling wands. Next, I gave it a go myself:

1. To achieve my holiday photograph look, I used
Pantene
Heat Shield Shampoo and Conditioner (not pictured), KeraGloss Oil Mist, Silky Moisture Whip, Heat Protection Spray, Shaping Hairspray, and Smooth Serum. // 2. Since I'm a night showerer, I showered at night and let my hair air dry. I typically sleep with it in a bun so it usually dries pretty funky. // 3. After taking the bun down in the morning, my hair is usually a frizzy, crunchy mess. However, by using the Moisture Whip, it wasn't really crunchy at all. Holla! // 4. I smoothed down my "baby bangs" (hair regrowth after having Caroline) with the smoothing serum. (I
detest
 my baby bangs... more about that some other post). // 5. I sprayed each strand of hair with the heat protecting spray before curling it. // 6. Look! Soft, touchable ringlets! // 7. Wowzers! A head full of curls in five minutes flat. They're not perfect, but that's okay. I wanted them to be a bit looser. // 8. I shook 'em out to make them a little less like a Shirley Temple coif and more like loose,
Connie Britton curls
.
Thanks so much to all who entered the Pantene giveaway I hosted! Sarah B. was the winner. Thank you, Pantene Pro-V for partnering with Adored Austin. My Christmas card hair thanks you, too! 

I was selected for this opportunity as a member of Clever Girls Collective and the content and opinions expressed here are all my own.
I love a good Instagram contest,  and I love Langford Market. This time I get to be in the judge's chair for the #LangfordHoliday Instagram contest, and I'm as giddy as Adam Levine in a spinning chair on The Voice.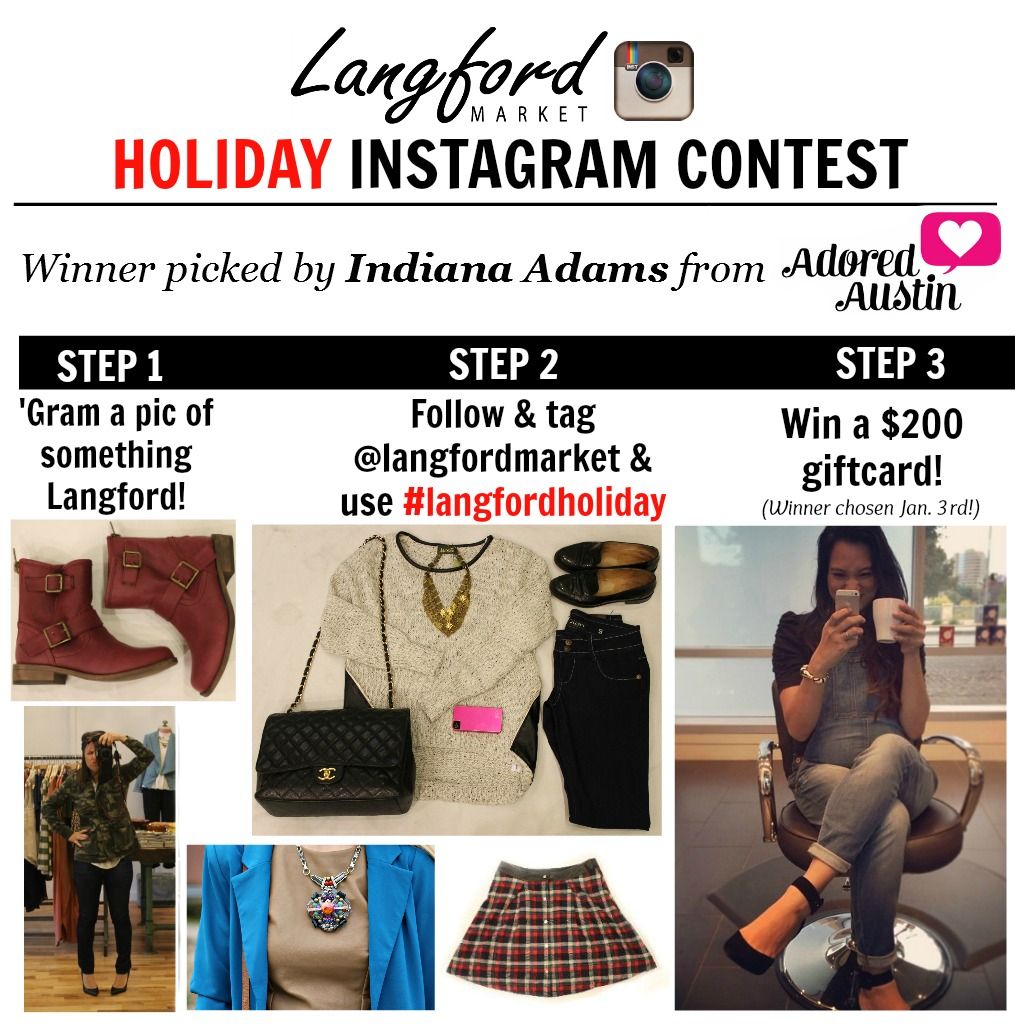 Simply Instagram a photo of something you love at Langford Market. It can be something new, something old, selfies, something in their store or online that you're coveting-- really, whatever! Then follow and tag @langfordmarket using hashtag #langfordholiday (basically so I can find your entry)! I'll pick my favorite entry by January 3rd, and they'll announce the winner shorty after! [more info]
A $200 gift certificate can get you a ton at Langford Market, plus they have stores all over the country (including the newest one in Austin in the old Toy Joy shop at 29th and Guadalupe... it's gorgeous! Have you been, yet?). Winning this would certainly kickstart your 2014 wardrobe! Plus I can't wait to see what y'all come up with.
You can find Langford Market on Instagram at http://instagram.com/langfordmarket and I'm at http://instagram.com/indianaadams posting too many photos of my kids and food I didn't even cook. Follow us!

/// /// ///
For my birthday, thanks to Twitter recommendations from Jess, Jentine, and Linda (all who have great hair!) Chris got me this curling wand, after I misplaced my the curling I had inadvertently stolen from my best friend. If you follow me on Instagram, you are privy to the fact that my first foray with the curling wand wasn't exactly successful. Yikes!
With my lightened ombre ends and (finally!) longer length after growing out this haircut, my hair felt a little crunchy and looked a lot frizzy the first time I styled it with the wand. This is what I wanted vs. what I got the first time I tried it:

Oh, golly. I'm sorry for using a Kardashian photo as an example as to what I aspire to have. I promise I am only envious of the Kardashian sisters when it comes to follicles! Geesh.
My working theory is that I need to step it up in the hair products department. Maybe some good conditioner and serum and hair spray can make my perfect curls happen. Pantene, the reigning queen brand of affordable, healthy, shiny, and beautiful hair, recently sent me a big 'ole box of goodies to try, so I am hoping to play around with my hair this weekend to see if I can get some smooth waves just in time for the holiday get togethers Chris and I have lined up. Thankfully most of these products are to use with hot tools, so I'm excited to give them a go. I'm even more excited that one of y'all can win the same exact goodie box! Can we do hair experiments together?

If you want to win the same prize pack I got to try out, please enter your info below by this Sunday. Winner will be drawn Monday, December 23:

[Form removed. Entry period passed.]
Tune in on Monday to see how my curls turn out!

I was selected for this opportunity as a member of Clever Girls Collective and the content and opinions expressed here are all my own.
This graphic says it all:

Well, almost. My sweet friend Jen, the owner of one of my favorite fair trade minded shops, Purse and Clutch, is currently holding scarf week in her shop (both online and at her holiday pop-up shop on 2nd Street). These scarves, handcrafted by women who are paid a living wage in Cambodia, make excellent Christmas gifts. You did know there's only seven shopping days left until Christmas, right? (I see you freaking out a little bit there!). Here are the deets:
During scarf week, scarves are two for $60 with code "SCARFWEEK" online (regularly $36 each). 
Every scarf purchased in the shop gets an entry to win either this Ikat Satchel (swoon!) or this new style of Leather Pouchette.
Additionally, tomorrow night (Wednesday, December 18), from 5pm- 8pm will be a sip and shop co-hosted by yours truly and the oh-so kind Kristen, of the famed The Mrs. and The Mama blog.  There will be Sweet Tea Vodka cocktails on hand, and Jen has stocked the shop full of amazing, affordable, fair trade goodies that will be sure to fulfill those last minute gifts you're scrambling to find. Join us at 237 W. 2nd Street tomorrow night. (Park either in City Hall parking or in AMLI parking garage at 2nd and Lavaca). I would love to meet you! I'll even let you squeal at my very large baby bump.

This buffalo plaid black and white scarf is my favorite. Isn't it lovely?
The very first movie date* I ever went on was to see Addams Family Values (*Note: I am using "date" loosely here as I was a pre-teen and I had simply met a boy with his group of friends at the movies whilst accompanied by a group of friends of my own. He and I shared a tub of popcorn and a twin pack of Slim Jims, but that was the extent of our "date"). Not because of him, but because of nostalgia in general, I've always had penchant for Wednesday Addams. When I married Chris Adams [sic], the irony was not lost on me, and I was Wednesday Addams for Halloween one year. Despite this, I honestly did not realize that this new maternity dress I got from ASOS recently is pretty much a "Wednesday Addams with Child" homage:

 date: 8 December 2013 // occasion: Jude's Christmas pageant + kiddo birthday party
dress: ASOS (maternity) // tights: Target // shoes: Ann Marino via DSW // wallet: Kate Spade (similar) // sunglasses: c/o 80's Purple (similar)

Well, at least I know that I can simply add two braids and some lighter foundation make-up and be Wednesday Addams for Halloween again some time.
I'm still wearing this to Christmas family festivities. Hopefully no one else makes the correlation. 
The witchy shoes probably don't help much.
Now, if you'll indulge me, please sing this to the tune of The Addams Family tv theme song:
She's sleepy and she's kooky,
This outfit's not a fluke- see?,
Does it make you sort of pukey?
Indi's outfit comedy!

Da-da-da-dant! *snap snap!* Da-da-da-dant! *snap snap*
So the reason why I had to wake up before 8 am on Saturday is because I had to book it downtown for a spa / salon appointment to prepare for Chris' work party that night. I didn't want to look completely busted, so I had to get rid of my pesky nose hairs, touch up my stubborn grays, and I decided to go ahead a get a blow out while there. After all was said and done, I felt like a million bucks. A bloated million bucks, but a cool mil, nonetheless:

 date: 7 December 2013 // occasion: corporate Christmas party
coat: passed on to me from my Grandma (similar) // dress: ASOS (maternity) // tights: ASOS (maternity) // shoes: Audrey Brooke via DSW (similar) // studs: Target // bag: on loan from Distillery Austin

I'm sorry about my unbearably smug face here. Eeep.
I loved the swingy movement to the dress. There's so much room in the dress that Jude tried to hide under it... while I was wearing it. Since this has proven to fit both me and my three year old at the same time, I'm sure this will still fit me come spring when I'm much larger. I think I'll be able to wear it with bare legs and flat sandals. Now... who can invite me somewhere where I get to dress up this nice again? Anyone? Anyone?
I broke the shoes in earlier that morning at the salon. They are great and can be dressed down (as evidenced by
overalls
, no doubt) or up! The bag was the perfect finishing touch.
I love vintage lucite bags. I know that I will never be able to afford this modern take on them by Charlotte Olympia, but I keep my eyes peeled on Etsy and at vintage shops for cool, clear bags. Have you checked out The Distillery Austin, yet? Owned by a local brother and sister duo, their online Austin vintage shop is stocked full with cool treasures like this one. Check out their shop, blog, Facebook, Instagram, Twitter, and Pinterest to get the low down and to snatch up super thoughtful, one of a kind Christmas gifts. This vintage lucite clutch retails for $98. Not bad considering that when you get gussied up and carry this, you feel like a million bucks.